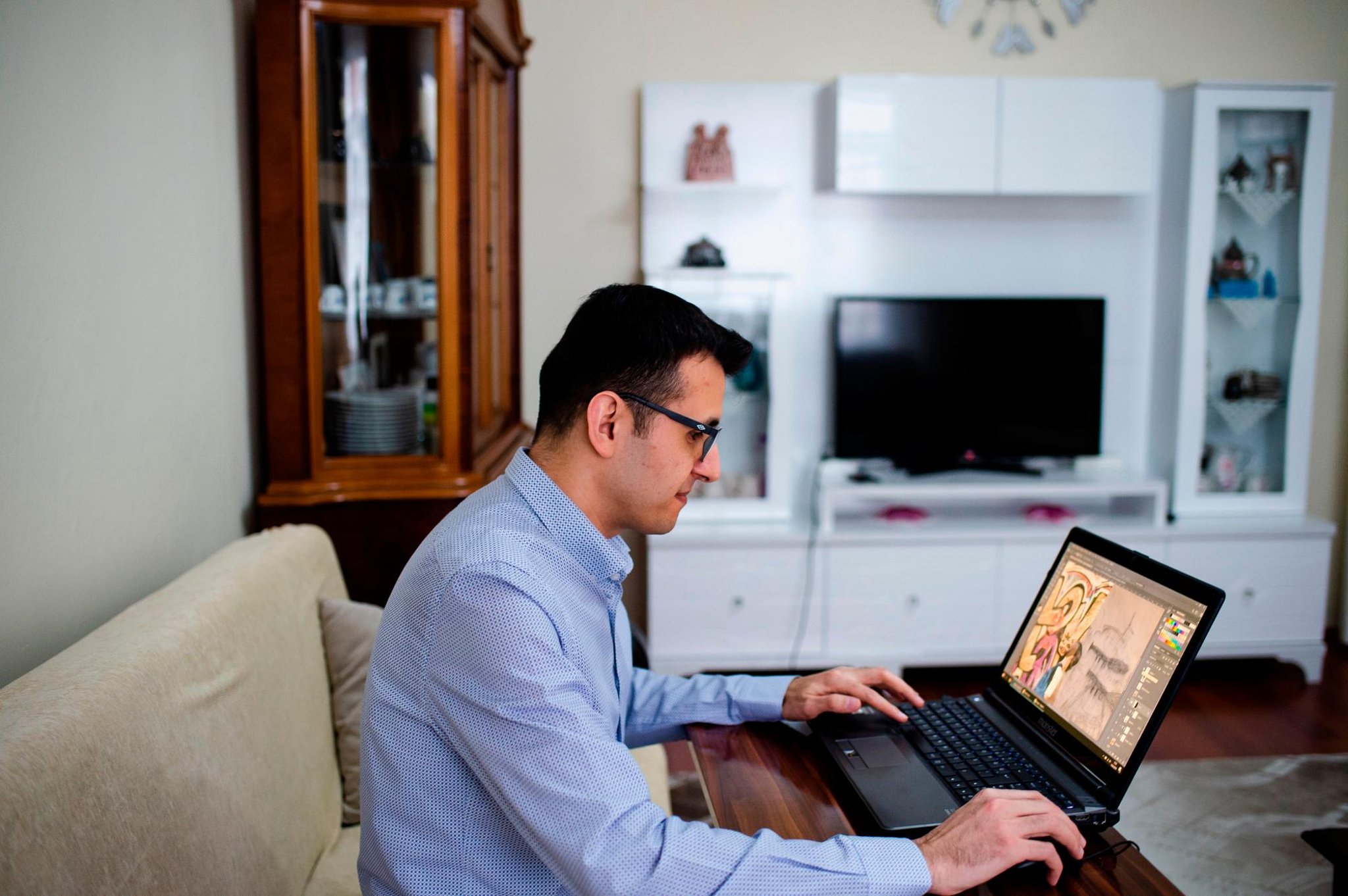 Turkish artist Ugur Gallenkus has amassed hundreds of thousands of followers on social media, but people in the creative industries need to find a balance between the 'exposure' she can bring and giving away their work for free (Photo: Yasin Akgul / AFP via Getty Images)
The phenomenon was not new and still exists, but when it was written the chord didn't sound so good.
The operating model was made visible when the posts were shared with communities who could comment on them. Artists hoping to raise their profile would be encouraged to donate work for free to an entity that could in theory provide an audience that could boost the artist's popularity and possibly his results somewhere further. In reality, the exhibition does not pay the bills, and a flow of free labor undermines the working standards of artists.
Around the same time, guilty conscience about unpaid internships emerged, a tangible factor in how prestigious artistic jobs are turning to privileged candidates, those whose families could fork out for living expenses. for six months or more and with connections (possibly an uncle on the board) bypassing recruiting processes.
Over the past decade, the publishing industry has all but eliminated unpaid internships (except on the more stretchy edges).
This is a victory for the newcomers of the working class, achieved, in a nutshell, through a combination of campaign groups, increasing pressure from social media around the issue, to industry networks refusing to share unpaid vacancies, at big publishing houses who end up focusing on bad public relations. and finally, funding organizations (which not so long ago let unpaid internships pass) expect companies applying for funding to factor in the costs of remunerating staff. fair manner.
Read more
Read more
Social media addiction: I'm back on Twitter but I can take care of it. I think – Jim D …
But recently, I've been thinking about other forms of unpaid work in the creative industries, and especially work that helps maintain a presence on social media.
There is an anxiety around this: many think they have to be there to move forward. Some fall into the trap of getting emotionally involved in the self-promotion side of things.
Some spend hours producing content that only social media companies, collecting data, ultimately benefit from. Is the time and effort spent on all of this really that different than giving away creative work in exchange for exposure, hoping that opportunities will follow? In fact, isn't social media presence an even more nebulous form of exposure?
The rewards are hard to quantify, but of course there are sometimes returns: visibility, discoverability. When used intelligently, social media for arts professionals is as much a networking tool as it is a dissemination tool.
But none of this is free. Social media costs us time and effort, and sometimes our peace of mind and contentment too. (Everything apart from what that does to our democracy).
I'm so exhausted after a decade on Twitter, and all the abuse and bad faith out there, I don't know if I can bear to go back. But weighing what I took out of it, I realized how familiar the dilemma was and thought back to all those conversations about the value of our work.
The exhibition was generally not worth it. Social media presence might not be either.
A message from the editor:
Thank you for reading this article. We depend on your support more than ever, as the change in consumption habits caused by the coronavirus is having an impact on our advertisers.
If you haven't already, consider supporting our trusted and verified journalism by purchasing a digital subscription.