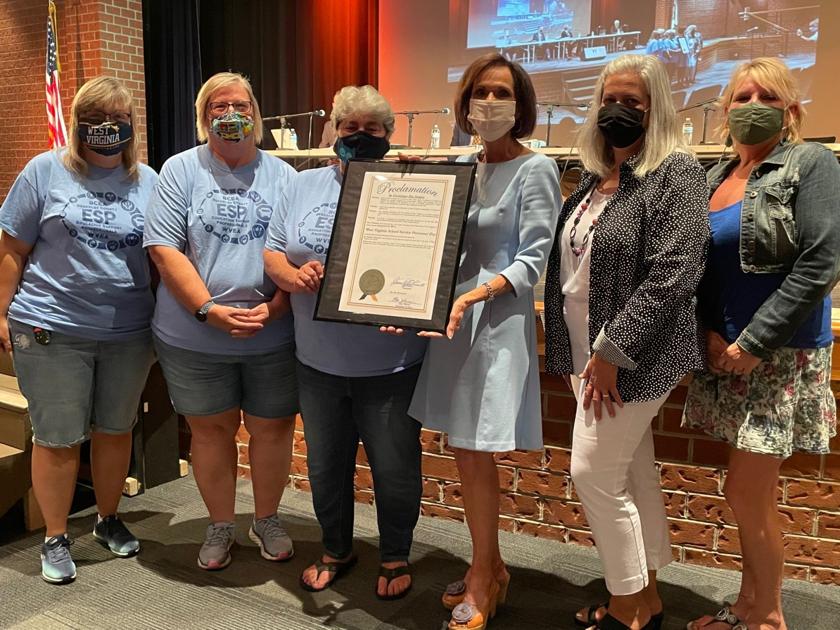 MARTINSBURG – As Berkeley County Education Council member Jackee Long took the mic at Monday night's meeting to recognize district service staff in light of Service Staff Day, she spoke spoken with his heart.
"I couldn't admire you more," she said. "I know what you are doing from the bottom of my heart and I thank you. "
Thursday is recognized as Service Personnel Day across the state following a proclamation by Governor Jim Justice, a way of thanking employees for their service and all they are doing to make Virginia school systems -Occidentale function properly and to take care of the students.
Long was a longtime leader of school service personnel both locally and at the state level and spent 40 years in the school system, beginning his tenure as secretary at Bunker Hill Elementary and Gerrardstown Elementary before working in more important roles. When she thanked those who serve students today in service roles, she did so with a full understanding of the tasks at hand each day.
"There is nothing that warms my heart more than honoring military personnel," she said. "It took many years for this to happen, and I feel blessed to be part of it. September 23 is Military Personnel Day statewide, and there are over 11,000 military personnel serving our children every day. There are 1,100 service members and substitutes in Berkeley County schools.
She went on to highlight all of the tasks that service staff do on a daily basis and added whatever employees took during COVID-19 just to make sure every student was taken care of. Throughout the pandemic, many employees, especially service staff, have taken on additional responsibilities such as delivering food to continue to meet the needs of local children.
"Each of them has a unique responsibility, especially now with the pandemic," Long said. "They have played such a vital role in the schools of Berkeley County, whether you are a bus driver delivering meals, cooks delivering meals. Everyone played a fantastic role, and they still are. Every day is a challenge, as we all know, and they meet it with grace and glory. I appreciate them from the bottom of my heart. "
Later in the meeting, BCS Superintendent Dr Patrick K. Murphy added that in addition to Service Staff Day, this week was to honor several groups of employees, including IT people, who had their professional day on Tuesday, and the goalies, which be celebrated on Friday.