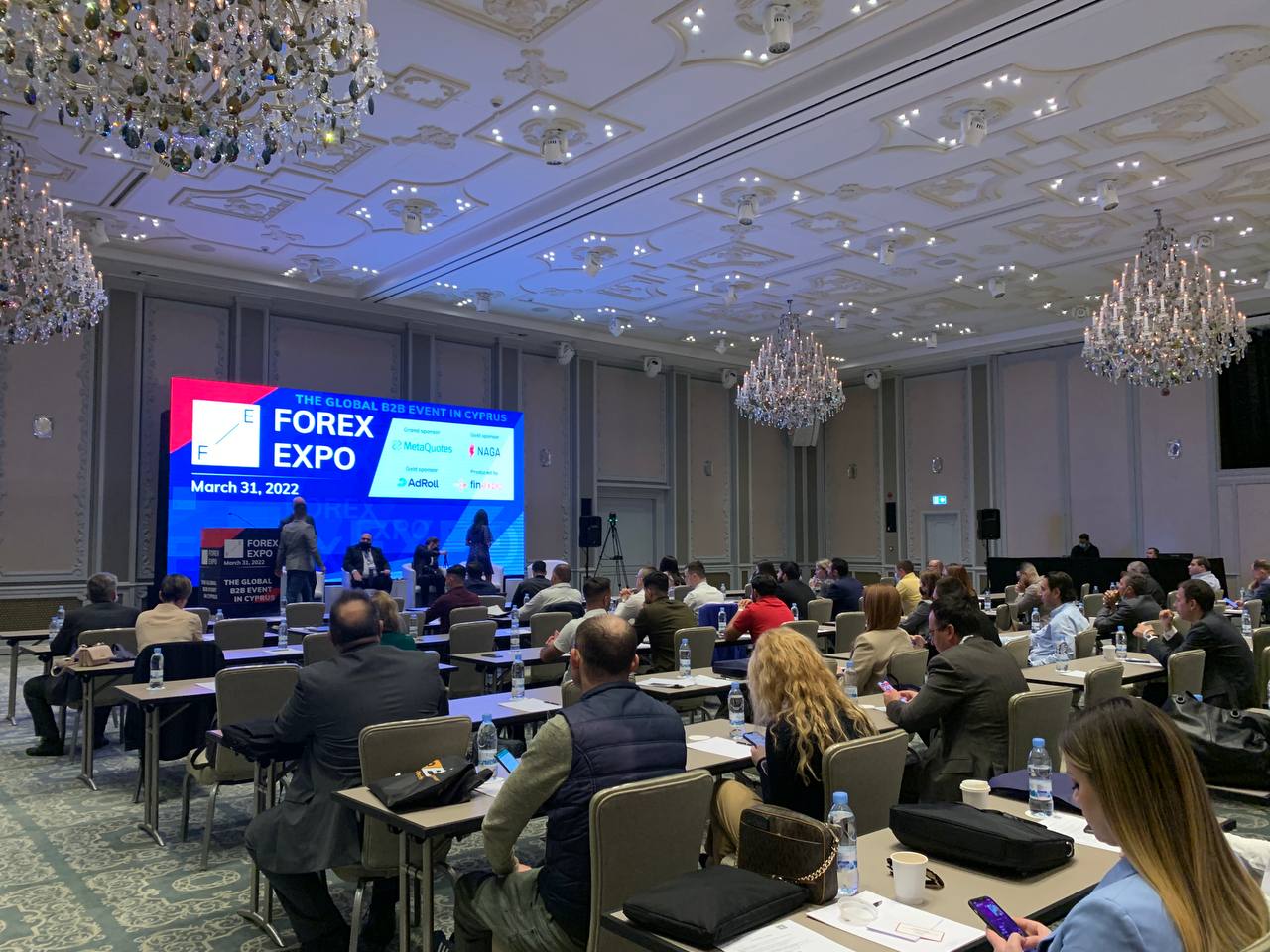 Spring has officially become the flagship event of the fintech industry Forex Expo brought the high profile Forex community together at the Parklane Hotel to network, learn and have fun. The show took place on March 31 inviting everyone to kick off the new season with new goals and new connections. Panel discussions, keynote speeches, workshop presentations, networking in an exhibition area, and a fun gala evening – these were the activities attendees and attendees enjoyed throughout the day.
The Finexpo organizing team always tries to keep up with global trends so for those unable to travel there was an online stream again as the event was shaped into a hybrid format to deliver to over 10,000 viewers an unforgettable experience so as not to feel left out.
Around 1,100 top professionals frequented the exhibition area and conference rooms throughout the day. Company representatives from MetaQuotes, Adroll, NAGA, Spotware, eBOS, Exclusive Capital Prime, KKHolding and Ecommbx shared their expertise and built new relationships using the full force of the show. Attendees from around 500 companies such as Vantage FX, PWC, Pepperstone and JPMorgan and from different regions of Europe (e.g. UK, Israel) and even Asia also made an impact through the extensive networking that took place. was the literal key to the event. As a result, many contracts were planned or even signed and excellent networking deals were made in comfortable spaces over a cup of coffee and a snack or in carefully constructed and designed prime booth locations. especially for this exhibition.
The conference program has also become a great success, providing an opportunity to learn and grow. A panel discussion on HR in Forex with professionals as diverse as Ross Pitman, Senior Business Manager at GRS Recruitment, Donna Stephenson, Founder of Emerald Zebra, Natale Mastoroudes, Head of Human Resources at BDSwiss and Eleni Aslani, HR Manager at Equiti CY has been a definite success.
The same goes for a super exciting Crypto integration in the Forex and Financial Markets panel moderated by Xenia Neophytou, Managing Director of CXFinancia LTD, with speakers such as Andreas Mathikolonis, Principal Investment Analyst at Quonota Investments Ltd, Jan Robert Schutte , CEO and co-founder of CryptoAcademy .nl, Andreas Livadiotis, CEO of XValley Technologies Ltd and Aris Ioannou, founder of Coinavalon.io. Many new tools have been brought to light here, which has made the Crypto Panel one of the most educational.
NAGA CEO Benjamin Bilski with his topic "How Social Media Has Impacted the Investment World and How You Can Benefit From It" gave a memorable presentation. Other sponsors were no less engaging in addressing the most vital topics, for example, Tony Spyrou of MetaQuotes covered "Integrated Clients Faster – Automated" while Bram de Jonge of AdRoll presented "How to WIN BIG with omnichannel marketing: why clicks are like gold, attribution like blockchain and marketing drives value." By the way, the marketing panel was great too!
The usual gala evening greeted guests after a busy day to help them relax and find an informal flow of communication. All attendees have graduated signifying to be part of the Forex Expo family. Overall, the event became a huge success, taking over the entire Parklane Hotel space and making it a great networking space, and an unforgettable opportunity for professional growth and expansion. Follow Forex Expo for details on future events.
About the organizer
Finexpo aims higher with its events creating phenomenal shows and substantial series all over the world including Singapore, Malaysia, Philippines, Thailand, Vietnam, South Korea, South Africa, Egypt, Ukraine , Russia and Cyprus. Networking and learning are key everywhere you go with Finexpo. Each event produced by Finexpo has its unique touch of perfection but common sense for each person in the industry.