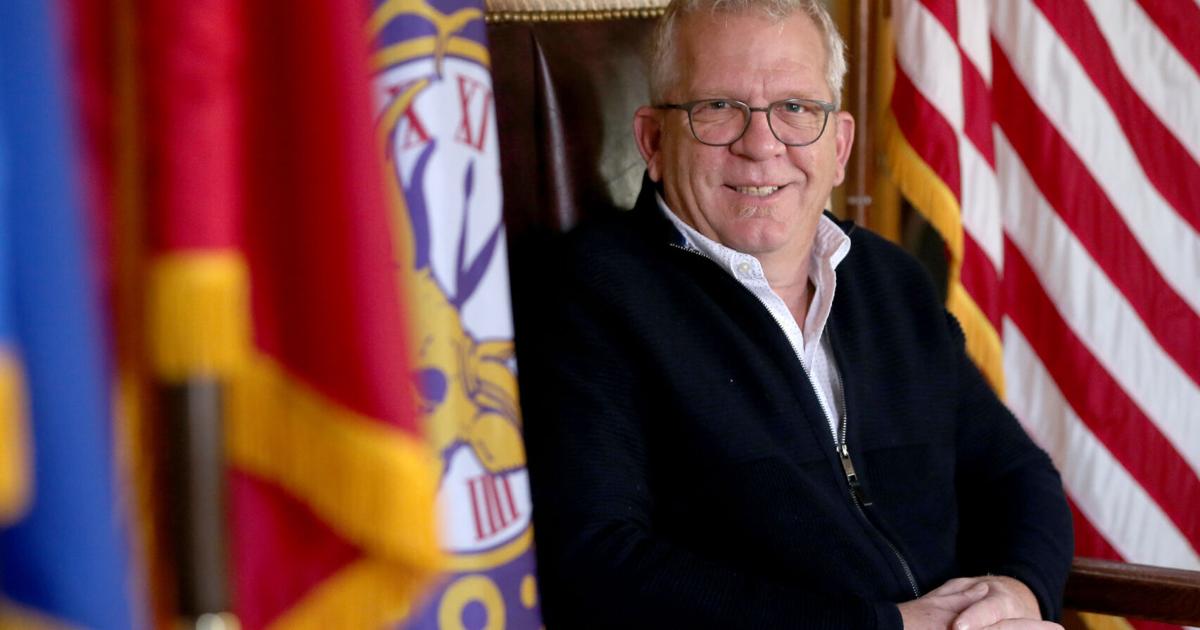 AGE: 59.
OCCUPATION: Assistant casino shift supervisor; exalted ruler, Westerly Lodge of Elks.
RESIDENCE: Where is.
BORN, RAISED AND GROWN IN: Philadelphia, south coast of New Jersey.
AT THIS TIME I AM IN THE MIDDLE OF: Learn the Westerly Elks management process.
I DEALED WITH THE PANDEMIC IN: Spending time outdoors with our dogs.
MY MOST PROUD ACHIEVEMENT: My children.
TOP ON MY BUCKET LIST: Travel and explore. I would like to discover different cultures from all over the world.
I ALWAYS WEAR: A watch.
WHAT I WANTED TO BE BIG: Accounting.
MY HEROES ARE: Anyone who took the time to share their knowledge with me.
FAVORITE AUTHORS: Mark Twain.
BOOKS ON MY NIGHT: The nightstand is empty, but the cocktail table is littered with cookbooks.
THE THREE BEST SONGS FROM MY PLAYLIST: "Debut" (Chicago), "Cortez" (Dave Matthews), "Romeo and Juliet" (Dire Straights).
LAST THREE SONGS I ASKED ALEXA / PANDORA / SPOTIFY TO PLAY: "Get Me to the Church on Time" (Sinatra), "Gimme Shelter" (Rolling Stones), "Warehouse" (Dave Matthews).
THREE FAVORITE FILMS OF ALL TIME: "Casablanca", "The Legend of Bagger Vance" and any James Bond 007.
FAVORITE TV SHOWS: I love to watch Formula 1 races and football matches.
FAVORITE RADIO / SHOWS / PODCAST STATION: The spectrum (SiriusXM satellite).
TOP COMFORT FEEDING: Sunday sauce.
SOCIAL MEDIA SITES I MAINLY USE: Facebook (for Elks posts).
FEATURES I LOOK FOR MOST: Loyalty and honesty.
PETS : Political arguments on social media, because most social media contacts are friends and no one has ever changed their political beliefs because of a social media post.
FAVORITE QUOTE: "Anything is possible if you make the effort. "
MY FAVORITE THING ON OUR LITTLE CORNER OF THE WORLD: Being from the big city, I really appreciate the sense of community in New England.
CANNOT LIVE WITHOUT: My family and my support group.
LITTLE KNOWN FACTS ABOUT ME: I really like being on the water.
BEST TIP I EVER RECEIVED: Work harder than everyone else.
TIPS I LIKE MOST TO GIVE: Do to others what they will do to you.
IF I RIDED THE WORLD, I WOULD DO: Fight hunger and homelessness. I don't understand how there can be so many children in our own country who go to bed hungry.
IF I WIN THE LOTTERY, THE FIRST THING I WILL DO: Make sure my family was ready then explore and experience the world.
I DRIVE TO: BMW 320 XI 2016 black.
I WOULD LIKE TO DRIVE A: Ferrari Enzo.
ALWAYS IN MY FRIDGE: Fruits and vegetables.
IF I COULD INVITE A SPECIAL PERSON TO JOIN WITH ME FOR DINNER AND CONVERSATION, I WOULD INVITE: Ben Franklin. He contributed to the declaration of independence. He was also a writer, an inventor, a scientist, a diplomat, and he was a great thinker. It would be interesting to have his opinion on the development of the country until today.
– Interview arranged and edited by Nancy Burns-Fusaro