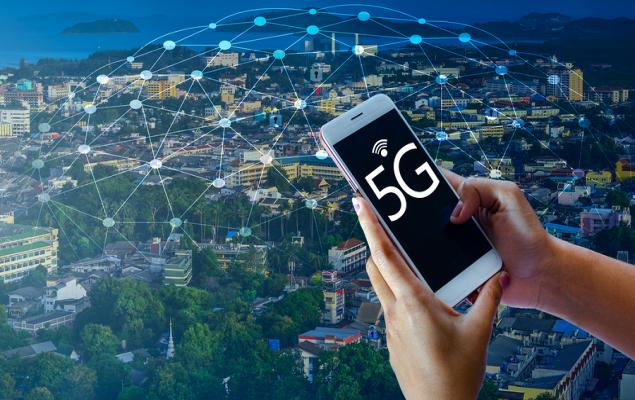 Nokia Corporation (NOK – Free Report) recently signed an agreement with Indosat Ooredoo to launch the carrier's 5G services in Surabaya, a port city in Indonesia. The deal will allow Indosat to offer 5G commercial services across the region and work collaboratively to roll out high-end digital services in the near future.
Under the agreement, the telecommunications equipment maker will provide 5G RAN solutions from its leading AirScale portfolio for extended indoor and outdoor coverage. AirScale Radio Access products provide low latency, high capacity mobile connectivity with a low cost of ownership and can be easily upgraded through a software update, reducing network complexity. Nokia will also offer Indosat Dynamic Spectrum Sharing (DSS) technology that synchronizes spectrum usage between 4G and 5G and helps network operators reuse low-frequency 4G radio networks for 5G deployment. The DSS strategy enables the deployment of 4G and 5G in the same band and proactively allocates spectral resources between them, based on user demand.
By unleashing network efficiency with common operability, software delivery and increased hardware sharing, Nokia has been able to lower the total cost of ownership for mobile operators. The company is well positioned for the current technology cycle given the strength of its end-to-end portfolio. Its installed base of high capacity AirScale products is growing rapidly. By deploying its industry-leading software solutions, 5G RAN and IP-Backhaul for this project, Nokia will help develop reference design and create use cases on standards-based solutions with local partners Sepuluh Nopember Institute of Technology and the University of Oulu. This, in turn, will likely help it harness the enormous potential of 5G to spur innovation in Indonesia.
The company is driving the transition of global businesses to intelligent virtual networks by creating a single network for all services, converging mobile and fixed broadband, IP routing and optical networks with the software and services to manage them. Using cutting-edge technology, Nokia is transforming the way people and things communicate and connect to each other. These include a seamless transition to 5G technology, ultra-broadband access, IP and software-defined networking, cloud applications and the Internet of Things.
The company helps customers move from an economy-of-scale network operating model to demand-driven operations by providing the easy programmability and flexible automation needed to support dynamic operations, reduce complexity and improve efficiency. Nokia remains focused on building a robust scalable software business and expanding it into structurally attractive enterprise adjacencies. He has signed more than 183 5G commercial contracts around the world. The company's end-to-end portfolio includes products and services for every part of a network, which help operators activate key 5G features, such as network slicing, distributed cloud and IoT. industrial. Faster strategy execution, increased customer focus and long-term cost reduction are expected to position the company as a global leader in providing end-to-end 5G solutions.
The stock has gained 37.5% in the past year compared to the industry rally of 29.2%.
Image source: Zacks Investment Research
We remain impressed with the inherent growth potential of this Zacks Rank # 2 (Buy) stock. Some other top-ranked stocks in the industry are Clearfield, Inc. (CLFD – Free Report), sporting a Rank 1 of Zacks (strong buy), and InterDigital, Inc. (IDCC – Free report) and Qualcomm Incorporated (QCOM – Free Report), wearing a Zacks Rank # 2. You can see The full list of today's Zacks # 1 Rank stocks here.
Clearfield has posted a surprise profit of 49% on average over the past four quarters.
InterDigital forecasts long-term profit growth of 15%. It delivered a surprise earnings of 536%, on average, over the past four quarters.
Qualcomm has a long-term profit growth expectation of 21%. It delivered a surprise earnings of 13.5%, on average, over the past four quarters.