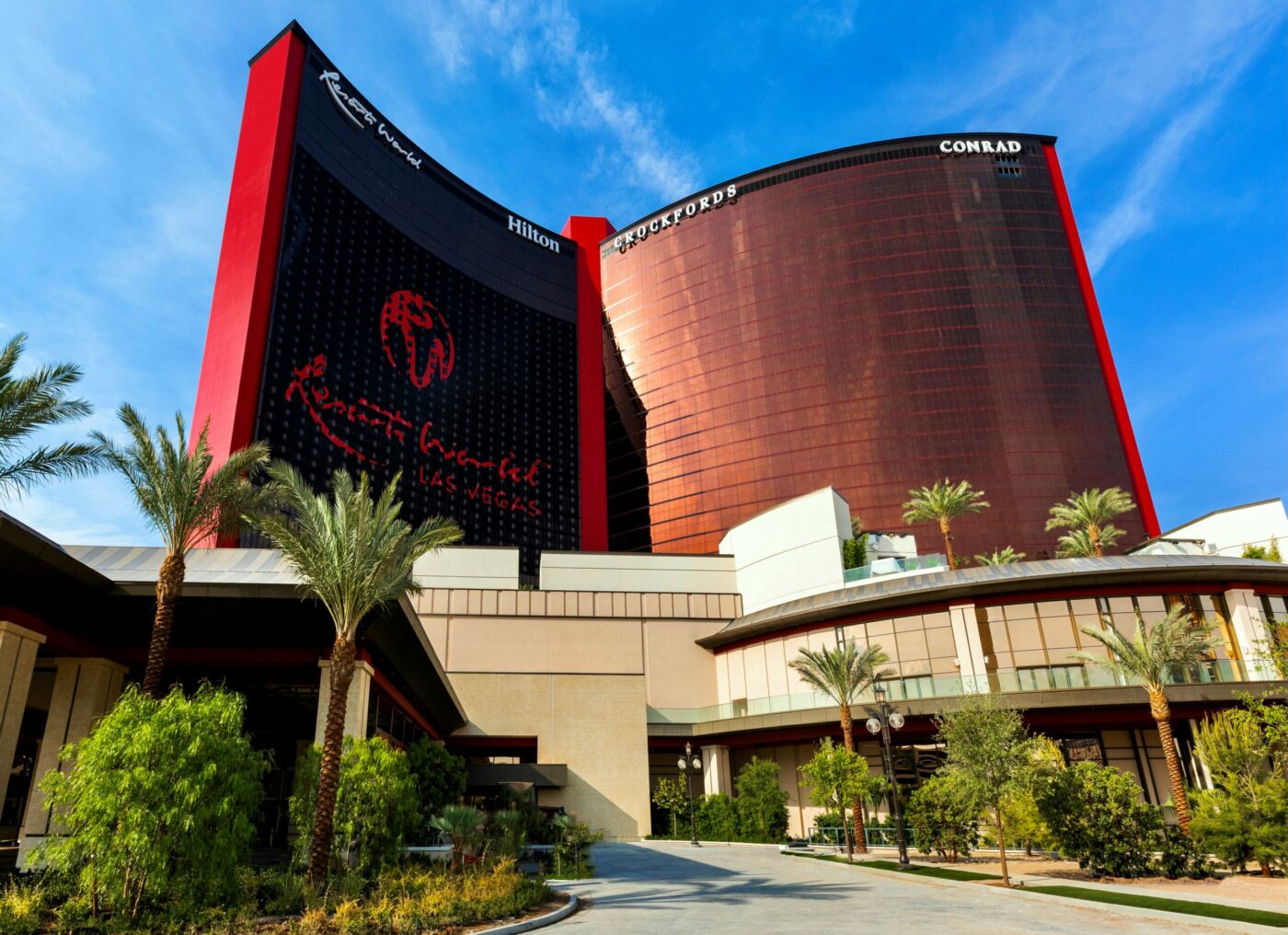 The more than 80-acre Resorts World Las Vegas is a newcomer to the Las Vegas Strip, bringing with it more than 3,500 rooms and suites in three separate hotel buildings, more than 40 dining establishments, a theater with a capacity of 5,000 and a massive AV over IP system with over 2,000 PoE endpoints from Visionary to provide customers with unmatched connectivity.
The project, which involved several AV integrators, is called the largest AV over IP network of its kind and does not include any matrix switcher, according to Visionary, a network AV solutions provider.
Over 2,000 endpoints
According to the company, the network covers almost every part of the property and has 2,000 endpoints – and growing.
Technology West Group of Las Vegas was selected to oversee the project, including the design and installation of the entire property-wide AV system and network..
Richard Reisig, vice president of Technology West Group, worked directly with Resorts World Las Vegas to facilitate the design of the low section (called "the podium"), the west tower, the neighborhood and all outdoor spaces. He says the Resorts World Las Vegas network includes more than 2,000 PacketAV endpoints and 2,000 QLAN channels.
"The number of terminals continues to grow as we develop the system," he said. "It's a very large network specifically designed to deliver end-to-end, non-blocking gigabit bandwidth to any location on the property with less than a millisecond of latency. "
Reisig says his company was chosen for the design phase at a time when the project was still very fluid. The last step in the design phase was to select a video solution, which became a network-based video solution so that the resort could connect anything on the property to any location.
"In the end, we chose Visionary because they provided us with a reliable solution that filled every gap," said Reisig. "One of the main reasons we selected Visionary was its robust network capabilities. "
According to Visionary, PacketAV endpoints offer internal device VLAN tagging. Due to the complexity of the network and the different protocols including video, QLAN, Dante, AES67, DMX and control, it becomes essential to separate the traffic for efficient network management.
"With the size and complexity of the network, VLAN tagging was essential for us," said Reisig. "Especially at the scale we're reaching, you can't have 2,000 devices on a single VLAN and just hope it works."
The creation of a system-wide Bluetooth-enabled wallplate encoder is also unique to this project. The company had an HDMI wallplate encoder with VLAN tagging, but the project did not require analog audio. Visionary therefore created a personalized wall plate integrating Bluetooth audio.
"Their flexibility changed the game for us," Reisig said. "This has allowed us to reduce the number of ports, switches, power consumption and overall costs by integrating two separate products into one. "
According to Visionary, the Duet wallplate encoder combines 4K UHD video and Dante / AES67 audio integration and decay on a single gigabit Ethernet port. Using Bluetooth 5.0 for extended range, faster data throughput and reliable connections, the Duet wallplate encoder supports two-way smartphone connectivity for web conferencing AV integration with software codec to eliminate the need separate bridging equipment.
Read more: AV-Over-IP Deep Diving Special Report 2020
Networked system capabilities
The networked system also allows Resorts World Las Vegas employees to transmit a signal from anywhere on the property and distribute it to the 100,000 square foot LED screen, theater, casino or anywhere. elsewhere on the property.
In addition, each room of the resort's three hotel brands – Las Vegas Hilton, Conrad Las Vegas and Crockfords Las Vegas – has an intuitive audiovisual system designed by One Touch Living.
Corey Brushia, president of One Touch Living, said in a statement that in-room technology was designed to enhance the guest experience and create an environment that allows guests to interact with the rooms and the property.
"Visionary has eliminated the need for a conventional HDBaseT matrix," said Brushia. "Visionary has allowed us to network from anywhere to anywhere. For example, we can take content from an executive suite, connect it to a boardroom or ballroom, or broadcast a special event in a villa. The possibilities are limitless."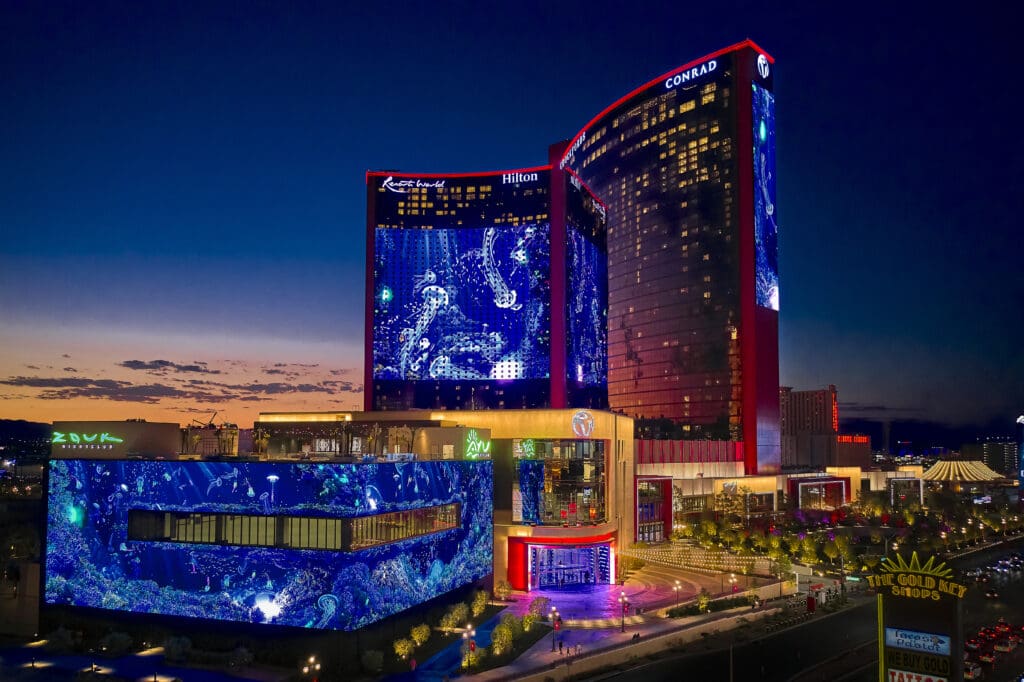 For the complex's first-floor common areas such as the lobbies, check-ins, casinos and gaming areas, Las Vegas-based integrator National Technology Associates was associated with the massive project which included thousands of high-rise channels. speakers in addition to the 2,000 endpoints.
Shane Snell, project manager for the company, said in a statement that it was probably not possible to distribute these components other than on a network.
"Every system can now join because the audio and video integration is done on the same network," he said. "We standardized Visionary and QSC to streamline communication between technology components.
The project also includes an immersive 5,000-seat theater that will feature musical guests such as Celine Dion, Carrie Underwood, Katy Perry and Luke Bryan. For the theater, Montreal theatrical design company Scéno Plus was chosen for the design.
François Blais, vice-president of technology and specialized equipment at Scéno Plus, called the theater "one of the most beautiful rooms" they have ever designed.
"Visionary allowed us to quickly and efficiently manage this large-scale facility," said Blais.
Sébastien Larose, AV designer for Scéno Plus, said that with over 150 digital screens in theaters, the ability to put the content on the network and run a single CAT5 cable simplifies the system.
"We have Visionary endpoints almost everywhere because Visionary allows us to take a signal from any location and transmit it anywhere on the property," Larose said.
Meanwhile, integration firm Solotech was selected for the design-build of Zouk Nightclub, Ayu Dayclub, and other restaurants and lounges in the resort. This includes a myriad of screens integrated into Visionary terminals to simplify control, said Aaron Peck, director of business development at Solotech, in a statement.
"Visionary's overall ability to provide the technology to allow these endpoints to be connected over a global network is incredibly impressive," said Peck.
PoE endpoints also help Resorts World las Vegas to implement its sustainability and corporate responsibility initiatives. The company's Duet wallplate encoder also makes it easier to use fewer products and use less energy than others.