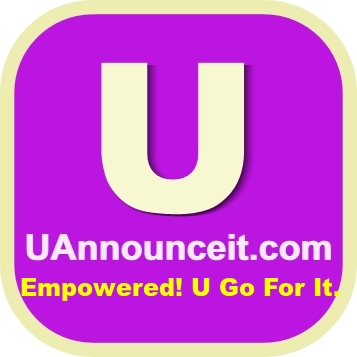 "Believe in the power of bringing people together" is the motto of the networking company – one they live up to
UAnnounceit™ is the pioneering social media and social media services company and the brainchild of global broadcaster Memorial Channel Television Network Services (MCTV) UK Ltd. This new social media community is a dynamic platform offering users the opportunity to share their experiences and build lasting relationships within the online community. The community is "based on YOU", offering a FREEDOM OF SPEECH platform for users to do, say, promote or advertise whatever they want, with the option of real-time live video streaming. The platform is also educational as users can interact in classrooms or create online courses in a well-secured and easy-to-use space.
Speaking on the network expansion plan, the founder and CEO of both companies, Mr. Marcel Ifey Obioha had this to say, "With the growing integrity of our global brand, we are pleased to announce the release of our beautiful 'U Announce It App' on Apple Store and Google Play Store.The app can be downloaded from UAnnounceit website homepage or app stores without cost or free subscription.
Even better, the link below is a direct access to download the app for free:
UAnnounceit app on the App Store: https://apple.co/3LJFWgC
UAnnounceit app on Google Play: https://bit.ly/3NUGy4K
The UAnnounceit app is the premium self-expression app for creatives and general users due to the availability of a wide range of services and features offered on the UAnnounceit platform. The platform allows users to share stories, access interactive online groups, create pages to promote their businesses, while creating contests for users. Users can also share and watch videos in pseudo-channel/TV format, share prayers and thoughts, post upcoming events, sell event tickets and add international and local news to their news, preach what regardless of their religious beliefs, get classified ads for goods and services, and enjoy a top-notch music playlist on UAnnounceit.
Moreover, registered users from 10 years old can create their virtual stores and marketplaces to sell their products and showcase their brands for free. The crowdfunding, fundraising and social donation functionality platform is added on the social networking website. Be part of this thriving UAnnounceit community, start sharing stories, interact with other users and enjoy value-added services.
Log on to https://www.uannounceit.com/ and register today.
About Memorial Channel Television Network Services Ltd (MCTV)
Memorial Channel Television Network Services Ltd (MCTV) is the UK based leading TV broadcast channel sharing a rich variety of international and local news. They also share and promote videos, music, movies and entertainment related content.
MCTV then created UAnnounceit, a global, multi-platform, part-service social networking website initiative. UAnnounceit allows users to share what they like and get instant updates. Moreover, users can connect, inform, comment and follow friends, families and VIPs around the world and be followed back. They can also upload photos, videos, and songs and share them on the activity feed.
Learn more about MCTV and the UAnnounceit platform on the About Us page on the company's website.
Media Contact
Company Name: Memorial Channel Television Network Services Ltd [MCTV]
Contact person: Mr. Marcel Obioha
E-mail: Send an email
Country: UK
Website: https://www.uannounceit.com/